a new kind of european groovejazz
(english below)
Die SAMY SAEMANN COMBO schickt ihre Zuhörer auf eine wundervolle musikalische Reise. Slap Bass trifft auf verzerrte Sounds, ein singender Fretless Bass verschmilzt mit Geige und Trompete.
Die Band spielt überwiegend instrumentale Eigenkompositionen, die musikalisch und emotional tief greifen. Stilistisch werden keine Grenzen gescheut, es funkt, es jazzed, es rockt und selbst die klassischen Wurzeln von Samy Saemann scheinen bei einigen seiner Kompositionen durch.
Mit einer very funky attitude werden Beine, Bauch und Herz gleichermaßen angesprochen. Dabei agiert der Bass in einer Doppelrolle als Groove- und Leadinstrument, nie zu vordergründig oder gar aufdringlich, dafür stets geschmackvoll, äußerst melodieverliebt und groovig präsent. Die Band reagiert tight, verträumte Melodien gehen einher mit groovigen Passagen, gefühlvolle Stimmungen schwellen an um sich in purer Energie zu entladen.
Mit dieser tollen Band darf nach vorne geblickt werden.
---
the SAMY SAEMANN COMBO is sending the listener on a beautiful musical journey. Slap bass meets overdriven sounds, singing fretless bass harmonizes with violin and trumpet.
The band plays mainly self-composed instrumental pieces, which engage deeply musically and emotionally. The tunes don't shy away from embracing a variety of styles and cross genre borders without fear.
The set is funky, it's jazzy, it rocks! And even Samy Saemanns classical roots bubble to the surface in some of his compositions.
With a funky, open attitude, the SAEMANN COMBO pulls the listener in with racy grooves and dreamy melodies. With it the sound realizes the bass as both the heartbeat of the groove as well as a soaring lead instrument.
The players immersed in-the-pocket, elegantly flirting with the melody while staying present in every groovy moment and with this great band there is one more way to go.
current live line up:
Achim Gössl - keyboards
Christoph Lewandowski - trumpet & flugelhorn
Oli Schulte - drums
Thomas Buffy - violin
Samy Saemann -  bass, songwriting & producing

releases
SAMY SAEMANN - "Lupa Lupa!" (2021)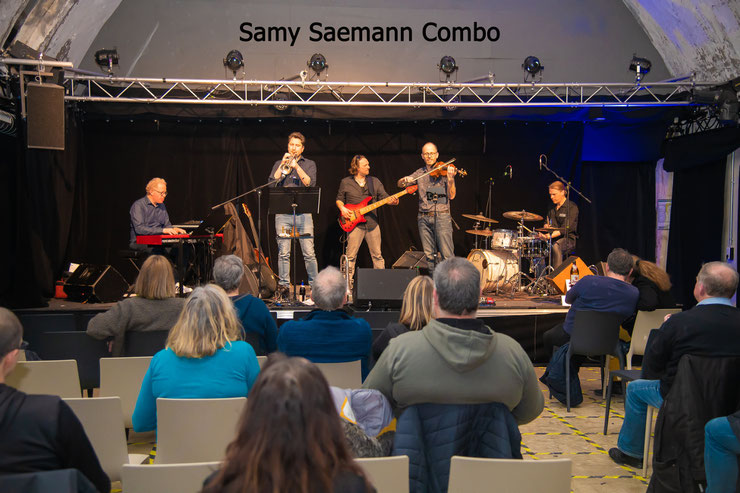 DUO GRANDIOS
(english below)
...das sind Birgit & Samy Saemann.
Gemeinsam zelebrieren sie in ihrem Programm 'Alt trifft Neu' die Gezeiten der Kunst von Klassik bis Jazz, von Bach über Eigenkompositionen bis Bossa.
Die Instrumentierung hierbei ist durchaus ungewöhnlich: mit Cello, singender Säge, 6-saitigem E-Bass und einem dubiosen Soprano-Bass interpretieren die beiden hoffnungslos musikverliebten Vollblutkünstler Musik, die ans Herz geht und den Zuhörer in eine Welt eintauchen lässt, die dem Alltag völlig entrückt ist.
Generationen und Genres verschmelzen ineinander, denn Musik vermag auszudrücken, was Worte niemals schaffen.
So findet sich eine illustre Gesellschaft an Interpretationen und Klängen an der musikalischen Kaffeebar zusammen: ein Telemann Kanon trifft in einer waghalsigen Darbietung mit modernem E-Bass samt Looper auf den Jazz eines Django Reinhardt und ein Cello bezirpst den Mond mit einem Bossa. Auch Eigenkompositionen reihen sich nahtlos in das Set ein, leidenschaftlich und frech dargeboten.
Tauchen sie ein in den wundervollen Sound des duo grandiOs, lassen sie sich verführen und haben sie keine Scheu vor dem Ungewöhnlichen, denn: alles ist die Welt und unsere Welt ist die Musik.
---
DUO GRANDIOS - old meets new from Bach to Bossa...
...that's Birgit & Samy Saemann, cello & bass.
With a passionate and cheeky performance the two artists celebrate the tides of music together in their special arranged 'old meets new' set, which ranges from classical tunes to jazz, from Bach to Bossa all the way to original compositions.
The instruments used in this performance are truly extraordinary: a cello, a singing saw, a 6-string bass and a dubious soprano bass create a musical interpretation of these two professional musicians, who have fallen hopelessly in love with music, that touches your heart and that allows the listener to dive into a world away from daily grind.
Generations and genres merge together because music may communicate what words cannot share.
Don't be afraid of trhe unusal! Immerse yourself with this musical seduction of sound by DUO GRANDIOS.
> DUO GRANDIOS video trailer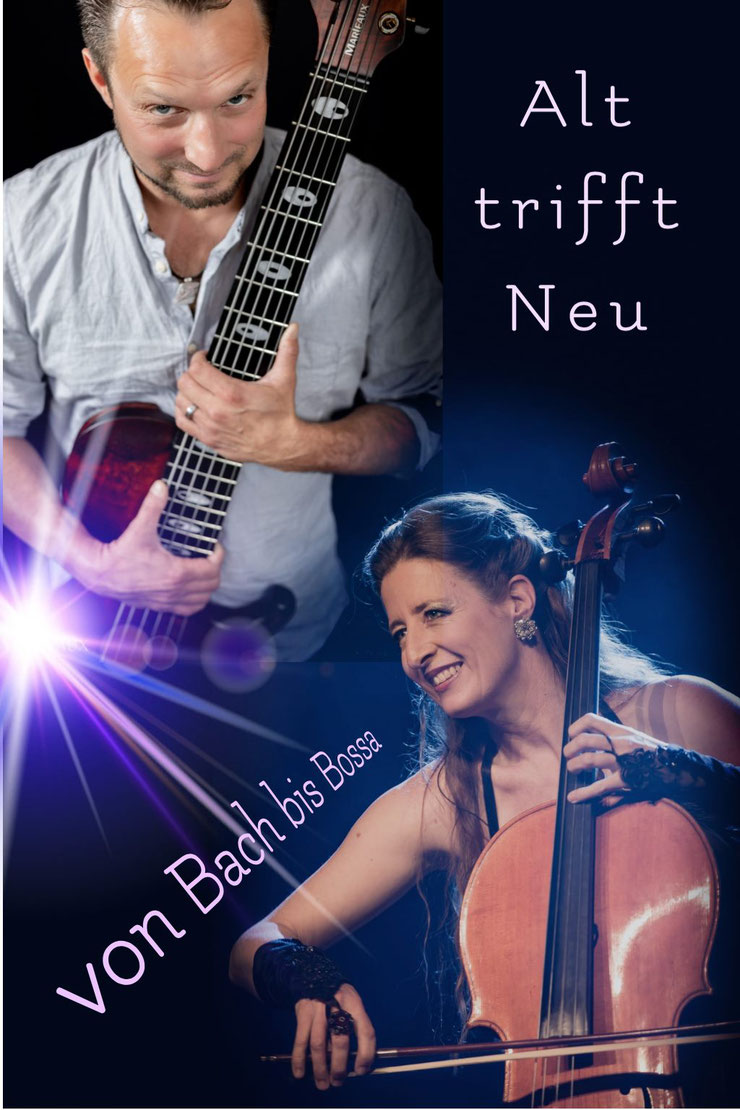 LA FINESSE
with the ladies string quartet LA FINESSE I have a special collaboration. I play bass for them live and in the studio and I'm acting as co-producer. In my OLYMP STUDIO GREUSSENHEIM we recorded some really wonderful pieces of music, very open minded in the kind of classical-pop-film-music-crossover.
Also we have a set together, in which I work as a DJ, doing my own remixes fitted in a classical-crossover-dance style and of course  together we're performing this live on stage, too.
> EPIC MEDLEY video from "grenzenlos"(2020)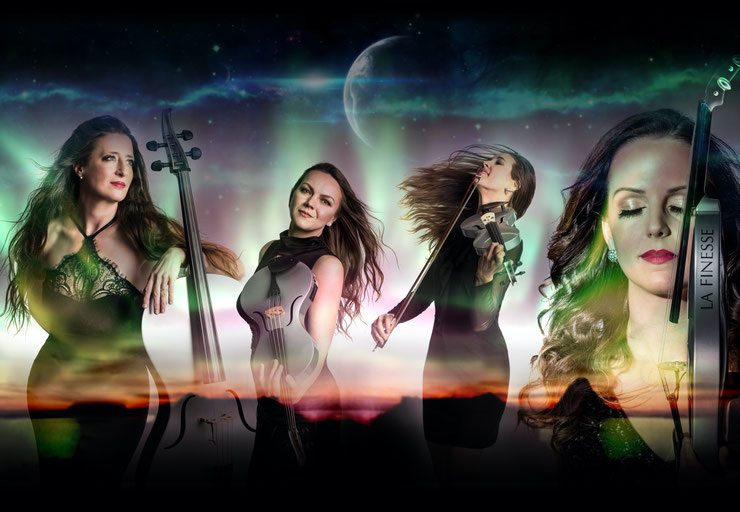 die "Party & Showband" Band mit dem Motto: "finest live music"...
Jigger Jam – das ist professionelles Entertainment pur. Denn mit großer Spielfreude und einem unverwechselbaren live Sound stehen hier Profimusiker auf der Bühne, die wissen, worauf es ankommt. Die erstklassigen Instrumentalisten und Sänger sind Garanten für eine energiegeladene Show, die durch die herausragende musikalische Darbietung und symphatische Austrahlung der Akteure zu einem mitreißenden Ereignis wird.
Jigger Jam sorgen mit ihrem Programm für groovigen Partyspaß, beste Unterhaltung und angenehme Dinnerbegleitung. Sowohl aktuelle Highlights aus dem Funk-, Soul-, Rock- und Popgenre als auch Klassiker vergangener Jahrzehnte runden eine Bühnenshow ab, wie sie stimmungsvoller nicht sein könnte.
Booking & Soundfiles:
B A F 
a solid old school rock band, fully live played handmade & with real musician competencies:
Al Kreuzer - guitar & Vox
Steff Porzel - drums & Vox
Jochen Schmidt - drums & backvox
Udo Schwendler - brass, keyboards & backvox
Samy Saemann - bass & vox
Reinhard Hüttinger - sound & booking
> BAF
> live with orchestra video
POPULAR STRANGERS
a rocky hiphop journey down a funky street of jazz
& still funky after all these years;-)
this band startet in the year 1995 and is not really active right now, but sometimes;-)
so we released a damned groovy live CD 2019 with material from a concert we played in 2013 in the Ansbacher Kammerspiele
> a concert movie "a rocky hip hop journey down a funky street of jazz" 
> "the other side of love" live
> "the other side of love" video